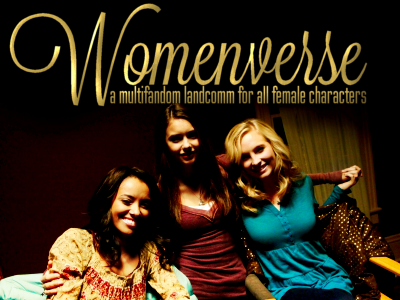 womenverse
is a landcomm dedicated to the ladies of our favourite television series, movies, books, games, and comics. The wicked stepmothers! The damsels in distress! The rebellious princesses! The femme fatales! The good, the badass, and the too cute for words. Here, women equal all folk who identify as girls or ladies or women, including trans*women. I can't promise that this comm won't have an occasionally feminist/womanist bent. Actually, I can pretty much guarantee that it will. Because women are awesome and deserve to be treated awesomely!
Three teams --
Stilettos
,
Combat Boots
, and
Flip-Flops
-- battle for the throne of
womenverse
Queen by participating in challenges that revolve around graphic making, fic writing, puzzle solving, vidding, etc. Please don't worry if you're not yet a writing/graphics/puzzle-solving/etc pro. It's all about having fun and trying new things, and there will be lots of ways to earn points that don't necessarily require you have lots of skill! Your meta, your participation, your enthusiasm -- all of those things are valuable and worth points.
Don't forget to let them know
si_crazy
sent you! We've just started Round 2, come join the fun!
womenverse
womenverse
womenverse
womenverse
womenverse